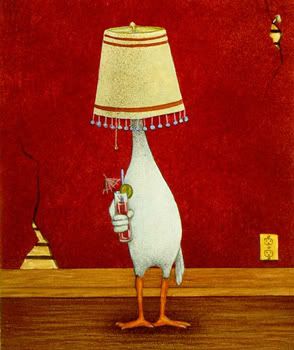 Life of the Party by Will Bullas 
Over at Greywaren Art, Maggie posted a challenge to her readers: feature an artist you admire and let your readers know why. Spread the love!
There are a lot of artists I admire, but if I had to pick a favorite, it'd be Will Bullas. He's been an artistic inspiration ever since I first saw his work. He's creative, funny – no wait, hilarious – and cute. His technique is constantly improving and refreshingly unique. And the puns! Wine-ocerous? Crabernet? A man after my own heart!
I have these two prints above my bar. I love them dearly for their weird, clever, punny originality. And the drink theme, of course. And the ducks. Gotta love the ducks.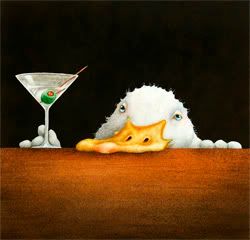 The Bar Bill
The Capybara Club
His bold use of flat color and wonderful texture are very appealing to me. He lets the subjects speak for themselves, using simple compositions, plain backgrounds, wonderful expressions, and witty titles.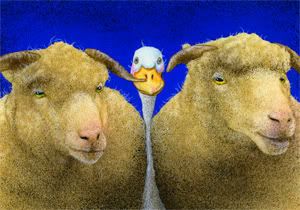 Between the Sheeps (OMG funny)
Third Day of Christmas (I can't stop laughing. Seriously.)
Vineyard
He can do realistic, serious work as well, and excels at it. But the best part of being a Will Bullas fan is snorting your coffee up your nose because you are laughing so hard.